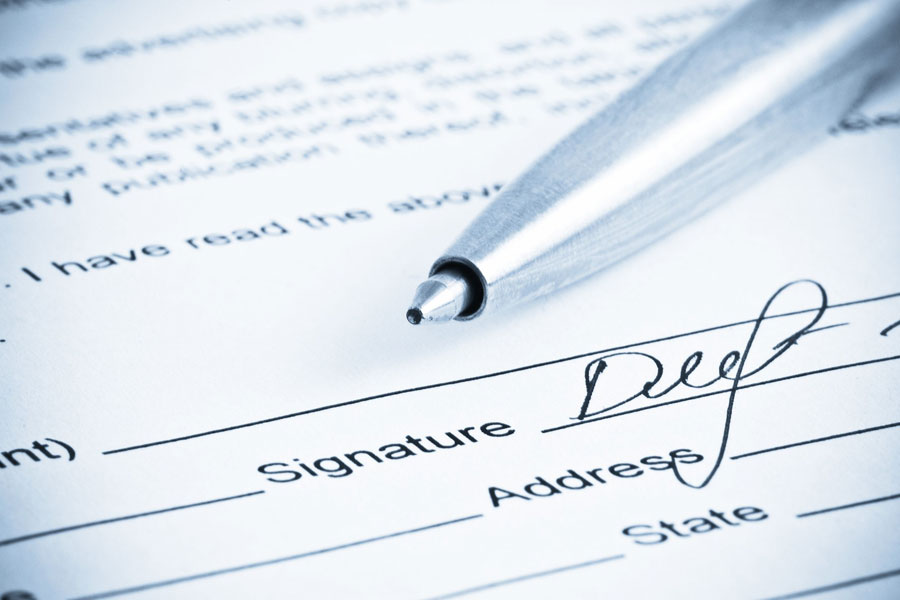 Statutory declarations and deeds
I need a lawyer to sign a document
Sometimes you need an independent solicitor simply to witness your signature to an oath or a declaration or to certify a photocopy. For example, you may need a solicitor to witness your signature to a Statutory Declaration. A solicitor can also certify a photocopy as being a true copy of the original so that you do not need to send off the original document. All solicitors are Commissioners for Oaths.
My fee for this simple procedure is £5 per document witnessed and £2 for each exhibit attached.
What documents do you not sign?
Please note that not all documents are appropriate for us to witness or sign such as:
Occupier's consent
Documents that are not written in English
Some documents can only be certified by a Notary Public.
If the document requires us not just to witness your signature but also to give advice, it might not be a document we can advise upon as it falls outside our field of practice.  If we do give advice, there will be an additional charge.
We do not offer a remote witnessing service.
I need a lawyer to verify my identity
If you simply need us to certify a photocopy of your identification documents as being a true copy of the original, we charge £5 per document copied.
If we need to sign a certificate certifying your identity, our fee depends upon the nature of the document. For example, we charge £50 to sign an ID1 form for a property transaction.
I need a lawyer to draft a declaration
If you need us to draft the document for you before signature, our fee varies depending upon the nature of the document, starting at £60 including VAT for a Change of Name Deed.  We can quote you a fee over the phone and have the document ready for you when you come in.
Phone for initial free advice on 01782 627589