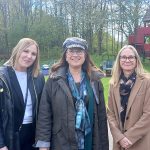 On 25th April 2023 I and 2 of my employees went to the Open Day at the Our Space charity in the Brook Centre in Newcastle under Lyme.  It was an opportunity to have a go on the play area without needing the excuse of accompanying a child.  More importantly it was an opportunity to see how far the Our Space charity has come since it was formed in February 2016 and how businesses can support the fantastic work that they do.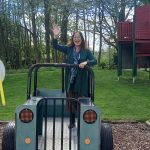 In December 2015  the North Staffs Special Adventure Playground (NSSAP) closed. The NSSAP had provided services for children, young people and adults with a disability for nearly 30 years. The closure was a bitter blow both for the hundreds of young people who had accessed the service and built up long-standing friendships, and for their parents who suddenly lost a vital source of respite and an important support network.  In February 2016, the Our Space charity was formed with nothing but a determination not to let go.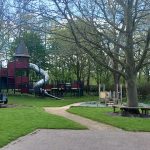 Coincidentally in February 2016, I left employment to set up my own business and was looking for charities to support as a business, separate to those I supported personally.   I remember attending a presentation by the Our Space team at that time and being so impressed with their passion and optimism.   Their priorities of putting the needs of families and children first and trusting that the funds would follow chimed with core principles of my business as a specialist family lawyer with nearly 30 years of experience in putting the client first and supporting them through their difficulties.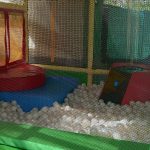 So the volunteers started straight away, running sessions in a local community hall until they were granted the lease on the former premises in August 2016 and then opened the doors in May 2017 after extensive refurbishment.   I visited the premises in those early days and was impressed by what they had achieved in a relatively short time.  It was a joy to visit 7 years later and see the improvements in that time, not least the new indoor soft play area.  They now have a staff of 12 and 20 volunteers.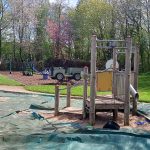 They have 9 regular sessions running for pre-schoolers through to adults
But of course, there is still so much more to do.  They need to raise £300,000 to refurbish the outdoor play area.   This is where you can help.
How to support the work of Our Space
Participants pay for the sessions, giving Our Space a regular income.
The centre is available for private hire.
A range of volunteering opportunities from helping with the sessions to maintenance in the grounds
Make a donation on the Justgiving page
Make a one off donation, ranging from £150 to £7500, to fund a specific project
Take part in a sponsored event.  The next organised event is Abseiling at Millers Dale Bridge in the Peak District on Sunday 10th September 2023.
Become a corporate partner, with regular opportunities to get involved and add social value.
Email office@ourspacestaffs.org.uk for more information