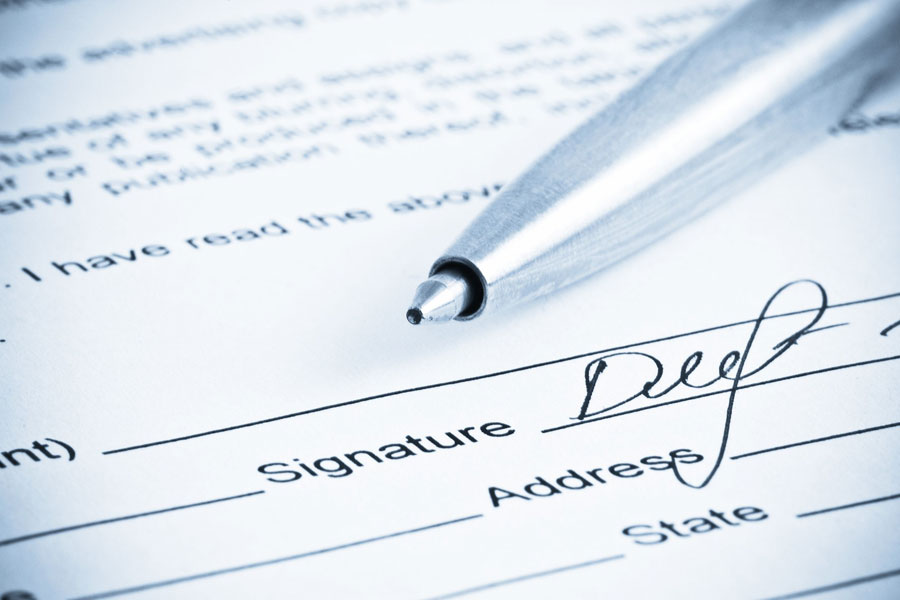 Ann McCabe Solicitors can offer you assistance with creating Wills in Newcastle Under Lyme. Phone us on 01782 627589 for free initial advice.
Why do you need a Will?
At some point in your life, you will need to consider who should inherit your assets when you die. Without a Will, your estate could end up with unexpected beneficiaries. Creating a Will not only simplifies matters for your loved ones after you're gone but can also eliminate the need for them to go through Probate.
A Will guarantees your desires are carried out after your death. Whereas a Lasting Power of Attorney eases the process of looking after your interests during your lifetime. This becomes increasingly important as life expectancy and the likelihood of dementia rise.
Wills revolve around your relationships, so it's crucial to draft one during significant life events such as cohabitation, marriage, divorce or having children.
That being said, making a Will becomes especially vital if you lack close relatives. Without one, your estate will be inherited by your nearest surviving relative according to intestacy rules. Unless you create a Will, individuals who aren't your biological relatives or spouses won't inherit your estate.
When should you create a Will?
You start living together: Without a Will, your cohabitee won't inherit any of your assets. Intestacy rules will determine the distribution of your belongings.
You get engaged: Any existing Will won't be valid after marriage unless it explicitly states it's made in anticipation of marriage or civil partnership. Make a new Will to specify how your estate should be managed and who should inherit it upon your death.
You get married or enter into a civil partnership:  An existing Will loses its validity unless it was made in anticipation of marriage. Intestacy rules apply once again.
You have children: Dying without a Will might lead to your children inheriting your property, especially if you're unmarried. However, someone else will have to oversee their inheritance until they reach 18 years old. Drafting a Will allows you to appoint executors and trustees to look after your children's interests. This simplifies matters and potentially avoids the need for probate. You can also name guardians with parental responsibility if no one else holds it.
You divorce:  When decree absolute is granted, any reference to your ex-spouse in your Will becomes void.  This leaves a gap in your Will and as a result, you may find that your wishes are not carried out when you die.
You buy a house: If you own a house jointly, it automatically goes to the surviving owner upon one owner's death. After the last owner passes away, it goes to their beneficiaries. To ensure each owner's share ultimately goes to their chosen beneficiaries, consider setting up a life interest trust.
To guarantee your wishes will be honoured after your passing, seek legal advice and have your Will prepared by an expert. Ann McCabe Solicitors can offer you assistance with creating Wills in Newcastle Under Lyme.
Click here for our fixed fees for Wills.
---
For free initial legal advice phone our Newcastle Under Lyme office on 01782 627589.
If you need to set up a trust for a disabled adult or want to consider a "Living Will" or Advanced Directive we suggest that you instead seek advice from Sheree Green of Greenchurch Legal Services as she is an expert in the field and able to act as a professional trustee when necessary.
Sheree Green can also advise about Statutory Wills when it is necessary to change the Will of someone who no longer has the mental capacity to do so.
---
What our clients say
"I requested a Will. Most information from my side was via email and then I went in to discuss my options.
I was then sent an email copy of the Will. I requested a small change, which was added immediately, I went into the office and all signing took place." 
Jill, 31st August 2023
"Ann McCabe Solicitors helped sort my family's estate following the death of our mother. Smooth process and they completed quickly and without any error, and at a fair price." 
"On a couple of occasions, I telephoned Ann McCabe regarding matters and although she was unable to help at a professional level, she gave sound advice freely and without restriction. This warmed me to her business.
Subsequently, I sought professional assistance from Adele Baskerville in updating my will. She gave very sound advice and dealt with me patiently, especially as my previous will, written by another practice, had some questionable material in it. She pondered long and hard before resolving my requirements and I was thoroughly satisfied with the outcome." 
David, 17th August 2023
---
Ann McCabe Solicitors can offer you assistance with creating Wills in Newcastle Under Lyme. Phone us on 01782 627589 for free initial advice. 
Ann McCabe Solicitors
Average rating:
0 reviews