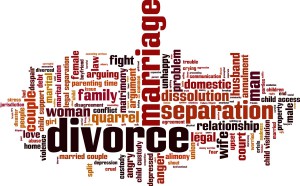 The Government has announced that no-fault divorce will become law on 6th April 2022.
For family lawyers, this is a monumental change to the current divorce process. Under the present divorce process, if you want to start a divorce straightaway, you have to cast blame either by setting out examples of the other spouse's unreasonable behaviour or the other person has to admit adultery. If you do not want to cast blame to get a divorce, you have to wait until you have been separated for two years to get a divorce without casting blame.
From 6th April 2022, divorcing couples will no longer need to cast blame to get a divorce straightaway.  This appears to be a definite date so if you are thinking about starting divorce proceedings now and trying to decide whether to issue straightaway on the grounds of unreasonable behaviour or adultery or wait until you have been separated for two years before issuing, the reality is that you now will only have to wait 10 months before issuing without casting blame.
What if I need to act straightaway but don't want to cast blame?
You might still want to resolve the financial consequences of the separation. The family team at Ann McCabe solicitors in Newcastle-under-Lyme can help you with this straightaway whether or not you decide to issue divorce proceedings straightaway. We will provide you with free initial telephone advice. During that conversation, we can talk about whether a Separation Agreement or financial court order would help you in your circumstances and therefore the pros and cons of starting divorce proceedings straightaway as opposed to waiting until April 2022. If you decide to go forward, we will give you clear information as to the process and costs involved.
How much does a divorce cost?
Most divorce solicitors already charge a fixed fee for an agreed divorce.   We have already reduced our fixed fee to £480 including VAT to take into account that the online process is far more streamlined and easy to use than the previous paper process, for which solicitors were more likely to charge closer to £1000.   Details of what is included in our fixed fee for divorce can be found here.
No fault divorce – a change for the better?
Lawyers have talked about the need to introduce "no-fault divorce" for years. Although couples do sometimes reconcile, in the majority of cases that reach lawyers, divorce is inevitable.
In some cases, the process of then having to cast blame against the other party to get a divorce can help in the process of achieving closure, particularly for the aggrieved party, if handled properly and with mutual respect. For example, if one spouse accepts full responsibility for the marriage breaking down and acknowledges the pain caused to the other, this can help them both to move on without acrimony.
However, in most cases, casting blame does not have a positive outcome. At best, both parties see it as a hoop-jumping exercise. At worst, it can destroy any prospect of resolving the consequences of the separation amicably.
Ever since I was a law student 35 years ago, lawyers have talked about changing the law so that divorcing couples do not have to cast blame against each other. Resolution has campaigned for no-fault divorce for many years because this is consistent with the Code of Practice which focuses upon resolving differences without acrimony.  This change to the law is welcomed by the legal community generally.
About the author
Ann McCabe is a solicitor and founder of Ann McCabe Solicitors.  She qualified as a solicitor in 1993 and has specialised in family law ever since.  She has worked in Newcastle under Lyme since 1994.
Call 01782 627589 for free initial advice