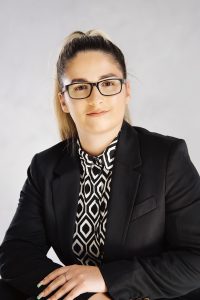 Zuleika Rehman joined our team as a trainee solicitor in September 2023. She recently graduated from Keele University with First Class Honours in Law. Additionally, she was recognised as MFG Solicitors' Law Student of the Year due to her dedication to studies and her extracurricular work, including co-hosting a groundbreaking podcast.
In her second year, she placed second in an internal Legal Skills Triathlon alongside her partner, proving her legal acumen went far beyond the theoretical. Then, in their third year, the pair made it to the finals of CEDR's national negotiation competition, taking them to the prestigious University of Exeter.
During her undergraduate years, Zuleika delved deep into the intricacies of family law,  solidifying her unyielding passion.
Beyond the classroom, Zuleika displayed an unwavering commitment to her chosen field. In addition to her academic pursuits, she volunteered at Keele's Divorce Clinic, engaged in networking events and embraced various extracurricular activities. Her commitment to making a difference in people's lives led her to local court through CLOCK. This experience reinforced her mission to pursue a career in law.
Her university journey reached a pinnacle when she graduated in July 2023.
Alongside working in the office as an apprentice Solicitor, she studies at BPP Law University, working towards the coveted Solicitors Qualifying Experience qualification.
Zuleika is thrilled to collaborate with the team of exceptional lawyers and considers herself fortunate to have the opportunity to learn from their wealth of knowledge. She looks forward to continuing her professional development and making a meaningful difference in the lives of our clients.
Phone our office in Newcastle under Lyme on 01782 627589 for initial free advice
---
What our clients say
"Excellent help when help was needed. Ann McCabe Solicitors helped sort my family's estate following the death of our mother. Smooth process and they completed quickly and without any error, and at a fair price." 
Ali C, 31st August 2023
"Ann was always available and replied quickly to emails and phone calls. She offered me the best guidance. Would highly recommend [it]."
Kayleigh, 11th May 2023
"Profesional 100prct needed some paperwork done and got exactly what I expected. If you're looking for a solicitor, look no further."
Lokillo, 18th February 2022
---