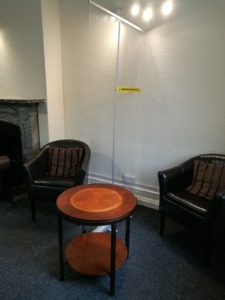 As we work through another lockdown, Ann McCabe Solicitors wants to reassure all of our clients that our firm is taking all necessary precautions to keep you safe. Our staff are working from home the majority of the time, visiting the office only when necessary to deal with post or for face-to-face meetings.  Visits to the office are by appointment only.
Reception is closed but all of our staff are working as usual, picking up emails and phones calls as usual whether at home or in the office. Your phone call will still be answered 24 hours a day 7 days a week.  If the person dealing with your case is not available, leave a message and we will return your call as soon as possible.
Where possible, we will meet with clients via phone or video call. If you need to sign, witness or drop off documents, you will need to book an appointment. Meetings to sign documents will generally be held in the large temporary waiting room with social distancing measures in place.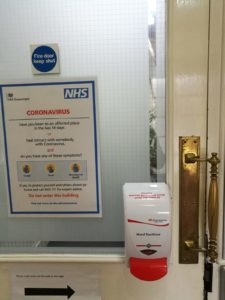 The office has put in protective screens and hand sanitiser stations to maximise visitors' safety.  We encourage clients to use the hand sanitiser upon arrival.
See our Covid 19 Policy for more information.
Despite the current circumstances, we will continue to provide our clients with a professional, compassionate, accessible and efficient service.  We have adapted to the "new normal" and this is the way we will work indefinitely, even after lockdown.  We hope that reception will be open again from 2nd December 2020, but even then we ask that all visits to the office be by appointment only.
Please don't hesitate to ask any questions. We will try to accommodate any particular needs you may have. Call on 01782 627589.