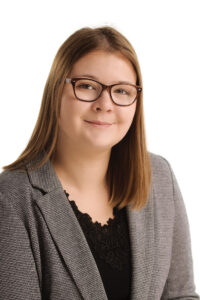 Trainee Solicitor
Before joining Ann McCabe Solicitors, Daniella worked most recently as a project manager and then internal account manager for a local company. Like many during the pandemic, she decided upon a career change, handed in her notice and started work as an administrative assistant for Ann McCabe Solicitors in July 2020.
Although she had had no legal training or legal experience up until that point, she was a fast learner and was keen to improve her skills and knowledge as a lawyer.  She became a qualified paralegal with the Chartered Institute of Legal Executives and is now a Trainee Solicitor.
Daniella has strong organisational skills, enjoys her interaction with clients and is motivated by wanting to help people. She specialises in Family Law supporting Ann McCabe and Jemma Wentworth and conveyancing supporting Daniel Webb.
---
Call the office in Newcastle under Lyme on 01782 627589 for free initial advice
"Very simple and easy experience. Would recommend highly."
Dean, 7th March 2023
"I've had cause to use the firm's services in various areas and cannot fault their competence and professionalism."
"Everything I needed was explained at what is a very difficult time. Dealing with what must be a common job' for the team, I very much felt that I was receiving very personal attention. Would definitely highly recommend. Thank you."
Robert, 16th September 2022
Articles
National Apprenticeship Week 9th February 2022
Daniella Fells enrols on course with CiLex Law School January 2021