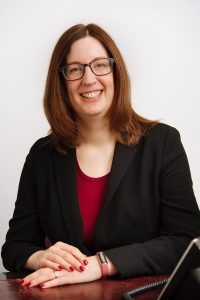 Paralegal
Emma Paxton joined Ann McCabe Solicitors in October 2016, bringing with her a passion for delivering a high-quality client-centred service.
She began working for a national law firm shortly after completing her law degree in 2007. Since then, she has gained experience in a range of matters including estate administration, powers of attorney and Wills.
Her primary aim is to develop a strong relationship with clients, therefore ensuring they receive the correct advice. Her personal and sensitive approach ultimately helps them through what are often difficult, personal circumstances.
Call our office in Newcastle under Lyme on 01782 627589 for free initial advice.
---
What Our Clients Say
"Ann McCabe Solicitors helped sort my family's estate following the death of our mother. Smooth process and they completed quickly and without any error, and at a fair price." Ali C, 24th August 2023
"Emma and the support staff carried out my instructions in a very timely and professional manner. Thank you." Stephen, 31st March 2023
"Myself and my husband had been looking to do our wills for some time but were confused about what needed to be included. Both Emma and Adele made this process really simple and gave us all the advice we needed." Samantha, 4th November 2022
"On behalf of our family, we thank Emma. Emma has been extremely helpful and thoughtful in dealing with the estate of our late sister. Her knowledge and advice have been excellent and would recommend her to anyone." Holly Atkin, 1st July 2022
"Ann and Emma have been amazing. They took care of everything for me at a very sad time. I really didn't know where to begin with sorting everything out. After speaking to Ann, I could relax knowing I was being taken care of. Communication was brilliant. I would definitely recommend Ann. Thank you, Ann and Emma, I really couldn't have got through without you." J Allison, 19th July 2020
---
Articles
Are Lasting Powers of Attorney worth the paper they're not written on?