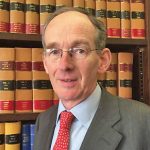 In a rare interview, the most senior judge in England and Wales has explained how separating parents "f**k you up" (a reference to the poem by Philip Larkin).  His Honour Judge Andrew Macfarlane, President of Family Division, spoke to Broadcasting House on Radio 4 on 24 July 2022.  You can listen to the full interview here (about 35 minutes into the program)
He condemned the number of cases that come to court, saying that the court process harms outcomes for children.  Too many separating couples fight it out in court where hostile language makes things worse. Some cases with safety concerns must be heard in court but others must not. Kramer v Kramer was a film in the seventies but real live court cases are repeating the same mistakes.
When do parents apply to court?
Some of the people who to come to court particularly to resolve issues concerning children would be better off not coming to court. Too often the court is seen as the first port of call but it should be the final resort where there is not domestic abuse or safety concerns.
His feeling is that about 20% of families who come to court have a dispute about their children resolved  would be better served trying to it sort out themselves in other ways.  It's not legal issue but a relationship problem (I wrote about this in my previous article)  The Law provides a structure for parents to resolve a dispute if needed and impose a resolution.
Is the court process harming children?
The realisation that the court process is adversarial and the language is weaponizing the things that have caused parents to separate. has crept up on us over the over the years. The terms "custody" and "access" went out with the Children Act 30 years ago but they are still used. The language we use in case should be changed. People will be familiar with the film Kramer versus Kramer but cases are still listed as Smith v. Smith. We still refer to "applicant and respondent is quotes some barristers still referred to "my opponent". Hearings are called "dispute resolution"; we should be problem-solving for the future of the child.
In Kramer v Kramer, the mother says "I want my son"".  The father says "You can't have him."  Some parents are like this today.  They talk of "my son", not their son.  Both parents have equal status in law. They both have parental responsibility. Part of that responsibility is to sort out problems when they occur.
"Research shows consistently that if you're the child of parents who are at odds with each other, whether or not they are coming to court that is unhealthy, it does your head in, to put it in straightforward terms. To live with that day in day out, week in week out harms a child.  It's difficult enough being a child growing up without all this… It's certainly recognised that to have a dispute that runs on in the court is highly likely to harm a child."
How do we parent after separation?
For this reason, the court is piloting new ways of working.  Part of that is that early on a social worker files a child impact assessment to provide a wake up call to the parents as to the impact of what they're doing on their child. (Resolution is also working on ways to improve the way parents resolve matters after their separation and have produced a Guide for Separating Parents)
His Honour Judge Macfarlane did not quite bring himself to say "they f** you up your mum and dad" but handed the famous Philip Larkin poem to the presenter, his point being that children are harmed by what is going on in their family.  "Parents are fooling themselves if they say we're not involving the children or they don't know.  If you're living in a household even if nobody says anything or you are not in the room you know that it's unhappy.
Is the family justice system broken?
HH Judge Macfarlane has been involved in reviews of the family justice system over the past 20 years and the Children Act became law in 1989. The Family Solutions Group in 2020 reported that the family justice system is in crisis, the number of parents bringing cases to court is unmanageable and family courts are stretched beyond limit. We are unable to get to cases in timely way and delay itself is not helping.
Are children hearings public?
HH Judge Macfarlane then went onto to speak about family cases being reported by journalists and whether the court system was too opaque.  Journalists have to be very careful as to what they can report because of the need to protect the confidentiality of those involved and the law of contempt of court.  HHJ Macfarlane is working to introduce changes so that journalists in court can report without naming anyone involved so that the public can see what we do without knowing the people involved.   The public at the moment only gets to learn of errors made in court if they go to Appeal as Appeals can be reported.   It is sad that cases have to go that far before reported.  We are now quite well advanced with a plan to roll out changes, which should therefore be rolled out in the next few months.
This is a reference to the Transparency Project which will make the workings of our Family Justice system more transparent and therefore more accountable.
What does the Government say?
A spokesperson from the Ministry of Justice responded to the interview by His Honour Judge McFarlane saying that the Ministry of Justice wants to reduce conflict in the family court at every step. This is why they introduced the biggest change to the divorce law in the past half-century, including a £324 million investment to provided swifter access to justice in family courts.
This is a reference to the new divorce procedure that came into effect in April 2022 and means that people no longer need to cast blame on each other to get divorced.   You can read about this in our article here
About the author
Ann McCabe is a solicitor and founder of Ann McCabe Solicitors.  She qualified as a solicitor in 1993 and has specialised in family law ever since.  She has worked in Newcastle under Lyme since 1994.
Phone for free initial advice from our specialist family team on 01782 627589