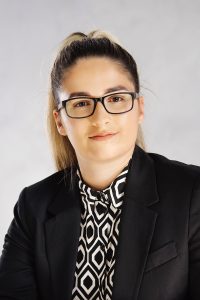 Zuleika Rehman joined Ann McCabe Solicitors as a Trainee Solicitor on 4 September 2023. She's filled with enthusiasm to kickstart her legal career and is concurrently pursuing her studies at BPP Law University to complete The Solicitors Qualifying Examination (SQE) and qualify as a solicitor in 2026.
Zuleika's passion for Family Law aligns perfectly with the team's values, placing people at its core. She believes in making a tangible impact on people's lives, a commitment she demonstrated through her volunteer work at Keele's Divorce Clinic and the local court during her university years.
Her firsthand experiences at both the Divorce Clinic and with Community Legal Outreach Collaboration Keele (CLOCK) provided valuable insights into the practical workings of the family law system. Many of these cases involved children and child arrangements, further solidifying her dedication to family law.
In July 2023, she graduated with First Class Honours in Law. Alongside this, she received the MFG Solicitors' Law Student of the Year award.  As well as her dedication to her studies, this was a result of her extracurricular legal pursuits, including hosting a ground-breaking podcast about developments in the legal world.
Now, Zuleika is brimming with excitement about her future at Ann McCabe Solicitors, eager to continue her professional growth. She looks forward to collaborating with experts in family and child law, eager to learn from their vast experience and knowledge to hone her skills and achieve success in her legal career.
Zuleika joins a team of three solicitor apprentices. She will work alongside Daniella Fells and Sammi Lindop as they all continue to progress in their legal careers.