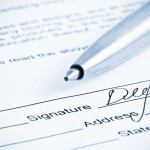 DIY Probate – Do I need a solicitor to apply for Probate?
With an increasing amount of personal applications to the Probate Registry, a new online service has been introduced by HM Courts and Tribunal Services. The service will initially only be available for executors acting alone who have a copy of the original Will, any applications with more than one executor, or with a Codicil, or that are generally more complex must be submitted using a paper application.
Although paper copies of the death certificate and Will shall still need to be sent by post, the online application process should be a great time saver as executors will be able to pay the fee online and submit a truth statement rather than visiting a solicitor to swear an Oath.
Of course there are benefits to using a solicitor, not least the peace of mind that the forms have been completed correctly.
Ann McCabe Solicitors are able to assist you as much or as little as you would like, whether we simply prepare the application or complete the entire administration of the estate.   Even if you complete the probate process, a solicitor would be required for any property transaction and we would be able to complete the legal matters associated with the sale of property with no mortgage.
Phone 01782 627589 for a quote of our fees for part or all of the process
Emma Paxton – Associate Legal Executive specialising in Wills, Probate and Lasting Powers of Attorney