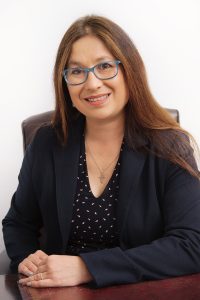 Ann McCabe, a divorce and separation specialist, set up the firm in Newcastle under Lyme in 2016. She now heads a team of lawyers dealing with Separation, Children, Wills, Probate, Lasting Powers of Attorney and Conveyancing.
Ann McCabe is a solicitor who has specialised in family law since 1993.  You are unlikely to find a more experienced or better qualified divorce and family lawyer in the Newcastle under Lyme and Stoke on Trent area.
---
By the time I was 15 years old I knew I wanted to be a lawyer and, after undertaking work experience, I decided I wanted to be a solicitor. Having studied law at Jesus College, Cambridge University, and Guildford College of Law, I went into High Street practice in London. There, I discovered I wanted to work with people as individuals rather than as businesses.
Since qualifying as a solicitor in 1993, I have worked exclusively in Divorce and Family Law. In January 1994, I started work as a Family Law Solicitor in Newcastle under Lyme. Additionally, in January 2000, I was one of the first three solicitors in Staffordshire to become a Resolution Accredited Specialist.
I specialise in all aspects of law relating to divorce and separation, including financial consequences. and child arrangements.
I am dedicated to providing a specialist, efficient and cost-effective service to anyone experiencing family breakdown. I tailor my service to your particular circumstances and requirements so that you receive personalised support.
As a Christian, being a solicitor is a vocation not just a job. "To act justly and to love mercy and to walk humbly with your God." Micah 6:8.
---
Phone our office in Newcastle under Lyme for initial free advice on 01782 627589
"Ann McCabe was so helpful understanding and caring. One minute my ex husband was buying our house from me and the next minute he sold it to someone else. This all happened in a week such a mess I was so stressed. Ann McCabe was brilliant. She sorted everything that needed doing for me. I can't thank her enough, and her assistant – such lovely people and excellent at what they do."
Sarah Peters, 11th July 2023
"Ann was excellent in helping deal with a difficult divorce. She provided great advice and was very fair in her charges. I would recommend her to help navigate a difficult process." 
"I had the pleasure of having Ann McCabe representing me for a complex family matter. I approached Ann when I was highly dissatisfied from my previous solicitor who not only gave me wrong advice but also added to my anxiety at every level in a complex children relocation case. In the end I had to fight as a litigant in person in Court and was looking to work with a professional on my finances in a stressful divorce matter.
"From the outset, Ann gave me a pragmatic and thorough advice. Her knowledge of law is exemplary, and her experience speaks volume as she guided me throughout my case at each stage. She is fully abreast of your case and offers realistic solutions. I also learnt a lot from her and she got me a much better outcome than anticipated. The best part in working with Ann is, she lets you stay in control of costs which can easily escalate in litigation cases and as a single mum with limited finances, I would recommend her highly to anyone going through a stressful divorce. She is the one of the best family law solicitors I have worked with both in Newcastle-under-Lyme and in the UK."
Mariam, 15th February 2023
---