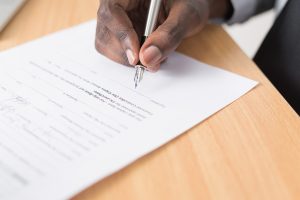 In the wake of Youngs Law's recent closure, Ann McCabe Solicitors are here to store your important documents free of charge.
Youngs had offices in Longton, Newcastle Under Lyme and Stoke, and have given their clients the option to collect their important documents should they wish.  You should take this option as soon as possible so that you know where your documents are.
We can keep your Wills, Lasting Powers of Attorney and Deeds at our Newcastle Under Lyme office, guaranteeing their security while keeping them conveniently local.
A copy is not good enough
Keeping the original versions of legal documents safe and secure is essential. While you may have online versions, scans, photocopies and other computer records, they are not legally valid. Only the original documents, which have the original signature on them, are legally binding.  The original Will is necessary to prove Probate.  Many banks and other financial  institutions only accept original registered Lasting Powers of Attorney.   Original Title Deeds are necessary to sell or transfer a house if it is not registered.
Why Store Your Documents Locally?
Convenience and Accessibility: By keeping your Wills, Lasting Powers of Attorney and deeds nearby, you can easily access them when needed.
Trust and Reliability: Our office boasts a strong local presence, and we place value on being a trustworthy business within the community. Be confident that we handle your documents with the utmost care and security.
Safety and Security: Our office implements rigorous security measures, including surveillance and alarm systems, as well as restricted access, to safeguard your sensitive information. Your documents shall be stored in a secure, fire-proof vault in our cellar.  We adhere to stringent ethical standards and legal obligations, ensuring the confidentiality and careful handling of your documents.
How Does It Work?
Storing your documents with us is a straightforward process. Simply get in touch to let us know what documents you want storing, and we'll schedule a drop-off time.
Rest assured, your documents will be readily available whenever you need them. To ensure a staff member is available to assist you, kindly give us notice before collecting your documents.
Don't hesitate to contact us to take advantage of this free service. Let us assist you in safeguarding your future.
Phone our Newcastle Under Lyme office on 01782 627589 for more information.
---
Related Articles
Are Lasting Powers of Attorney worth the paper they're not written on?
Cancer Research Free Will Service
---