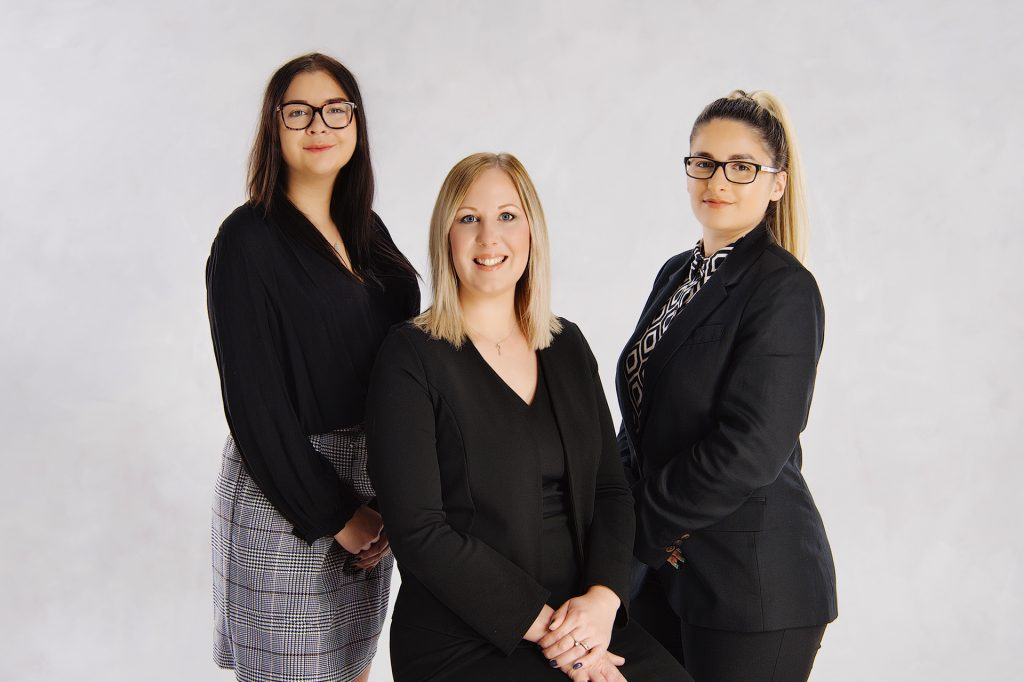 At Ann McCabe Solicitors, we proudly nurture the next generation of legal talent. Our Trainee Solicitors — Sammi, Daniella and Zuleika — bring diverse backgrounds and perspectives to the table, enriching our firm. Practical experience is a cornerstone of their training, as they engage with real cases, clients and the complexities of the law. This hands-on approach complements their theoretical education, equipping them with a well-rounded skill set.
Their pathways into law vary, highlighting the diverse routes available. Whether starting as a legal secretary, discovering law by chance, or pursuing a post-university apprenticeship, local law firms provide fertile ground for growth and learning. These trainees are poised to make meaningful contributions to the legal profession and their communities, reinforcing that success in law takes many forms. At Ann McCabe Solicitors, we champion this diversity and support emerging solicitors on their unique paths to excellence.
Sammi Lindop and Daniella Fells started their Solicitor Apprenticeship course with BPP in September 2023.  Zuleika Rehman joined Ann McCabe Solicitors in September 2023 and will start the course with BPP in January 2024
Full-Time University is not the only option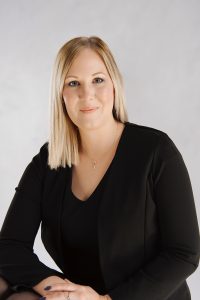 Sammi Lindop, who joined the team in June 2018, had 15 years of experience in the legal sector, working previously as a legal secretary and paralegal and starting at Ann McCabe Solicitors as a paralegal. She was keen to further her career and has since developed her skills and taken on more responsibilities.  She now has her own clients, under the supervision of our three fully-qualified family lawyers.
In February 2021, she started a paralegal apprenticeship course with the Chartered Institute of Legal Executives Law School, specialising in Family Law. She did this alongside Daniella Fells, who found an unexpected passion for law after joining the team as an administrative assistant.
Daniella's entry into the legal realm was far from conventional. Having ventured through a variety of unrelated jobs, she joined the team with no expectation of a legal career.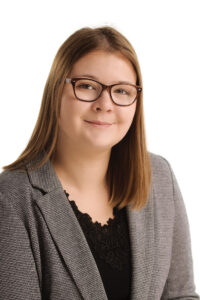 Her shift underscores the potential for professional discovery within the workplace, where latent talents can be awakened and nurtured.
Both Sammi and Daniella completed the two-year course, which lays the foundation in the law that might otherwise be learned during a law degree at university, alongside gaining practical experience in the workplace.  They qualified as CiLex Paralegals in January 2023.
Now, they have progressed to the next stage of training as solicitor apprentices. The course with BPP university will enable them to sit the Solicitors Qualifying Examination in 2028 and become fully qualified solicitors, with a Law degree . Sammi and Daniella stand as testaments to the value of a solid foundation built from the ground up.
The apprenticeship approach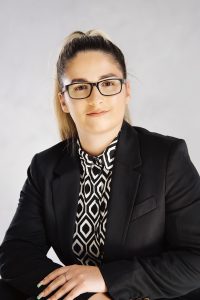 Lastly, Zuleika Rehman, a recent law graduate, embodies enthusiasm as she embarks on her career as a solicitor apprentice. Combining academic study with real-world experience, she is eager to specialise in Family and Child Law, bringing fresh perspectives to the table. Her journey exemplifies the advantages of gaining practical experience while pursuing academic qualifications, equipping her with a holistic skill set for her future at Ann McCabe Solicitors.
As she kickstarts her legal career, she is simultaneously continuing her studies. She will be studying for The Solicitors Qualifying Examination (SQE) at BPP Law University, aiming to qualify as a solicitor in 2026.
She explained that "the trainee solicitor apprenticeship here at Ann McCabe Solicitors appealed to me the moment I saw the job. I did some research into the graduate solicitor apprenticeship which actually seemed to me to be more appealing than the traditional training contract. It is in a firm which specialises in my chosen area of law and I had already met Ann at a networking event".
Diverse paths to legal excellence
The significance of training to be a solicitor within a law firm cannot be overstated. Trainees like Sammi, Daniella and Zuleika have the privilege of learning in a high-octane, real-world environment. They are exposed to actual cases, client interactions and the nuanced intricacies of the legal profession. This pragmatic approach complements their theoretical education, arming them with a well-rounded toolkit for their forthcoming careers.
These trainee solicitors epitomize the diverse routes that lead to a legal career. Whether one starts as a legal secretary, stumbles upon law by chance, or pursues an apprenticeship fresh out of university, local law firms offer fertile grounds for growth and experiential learning. As they continue to evolve and develop, these young professionals are poised to make significant contributions to the legal sphere and their local communities, proving that there is no single blueprint for success in the legal field.
---
Read more
Is it my fault Wilko is shutting down?
Do you have documents with Youngs Law?